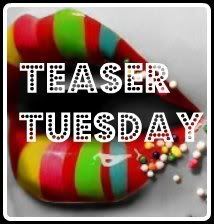 TODAY'S TEASER COMES FROM MY CURRENT READ
I AM TOTALLY ENJOYING THIS BOOK - UNIQUE CHARACTERS, SUSPENSE, AND A VARIETY OF PARANORMAL BEINGS WHO BRING MYSTERY AND THRILL TO EVERY PAGE.
"Everyone at once," the leader shouted, and then it was a mass of hands-nice, normal flesh over the decay underneath-all grabbing at me. I struggled, but even vamps are strong enough when they outnumber you twenty to one. It only took a few seconds for them to have me pinned against the wall; I managed to hold on the Tasey and the knife but couldn't move to use them. The leader stood right in front of my face. I tried to look at his glamour, just his glamour, but the pure white eyes staring at me from sunken sockets were all I could focus on. He smiled. I wanted to cry.
NOW, JOIN IN ON THE TEASING AND LEAVE ME A COMMENT. LET ME KNOW WHAT YOU THINK ABOUT THIS BOOK OR LEAVE A SENTENCE OR TWO FROM YOUR CURRENT READ
HAVE A GREAT DAY!