I'm super psyched that my all-time favorite holiday is tomorrow! Some of my family, my boyfriend, and I are riding in one of the Metaire(about 10 miles outside of New Orleans) truck parades tomorrow - it's a tradition for us and so much more exciting than just going to the parades. If you have yet to experience Mardi Gras, I strongly advise you to take a trip to New Orleans next year to join in and party with us!
In honor of the most unique celebration on the planet, here is a little history and some facts about Mardi Gras...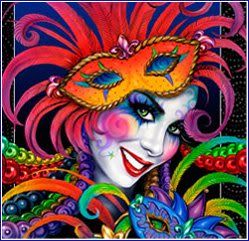 THE ORIGINS OF MARDI GRAS CAN BE TRACED TO MEDIVAL EUROPE THOUGH THE ORIGINS OF MARDI GRAS WE CELEBRATE TODAY (WITH KINGS, MARDI GRAS COLORS, AND BRASS BANDS) ARE TRACED TO NEW ORLEANS.

THE FIRST MARDI GRAS CELEBRATION IN THE U.S. RECORD WAS IN MOBILE, ALABAMA IN 1703.

THE FIRST RECORDED MARDI GRAS PARADE IN NEW ORLEANS WAS IN 1837, BUT THE FIRST PARADE IN THE CITY THAT FEATURED FLOATS WAS IN 1857.

OVER THE YEARS, NEW ORLEANIANS ADDED TO THE CELEBRATION BY ESTABLISHING KREWES WHICH HOLD FORMAL BALLS AND PARADES.

THE TERM "MARDI GRAS" MEANS "FAT TUESDAY" (IT IS ALWAYS CELEBRATED ON A TUESDAY), AND THE NAME REFLECTS THE INDULGENT BEHAVIOR OF THE CARNIVAL SEASON.

THE HOLIDAY CAN FALL BETWEEN FEBRUARY 3 AND MARCH 9, DEPENDING ON THE LUNAR CALENDAR, BUT MARDI GRAS IS ALWAYS 47 DAYS BEFORE EASTER SUNDAY.

THE OFFICIAL MARDI GRAS COLORS ARE PURPLE,

GREEN

, AND

GOLD

AND WERE CHOSEN IN 1872 BY THE KING OF CARNIVAL, REX.

COLOR REPRESENTATIONS:

PURPLE=JUSTICE,

GREEN=FAITH,

GOLD=POWER.

IN 1875, THE GOVERNOR OF LOUISIANA SIGNED THE "MARDI GRAS ACT" MAKING IT A LEGAL HOLIDAY.

THE FIRST MARDI GRAS BEADS WERE MADE OF GLASS, BUT TODAY THE VAST MAJORITY OF BEADS ARE PLASTIC (THEY ARE MUCH SAFER, LOL).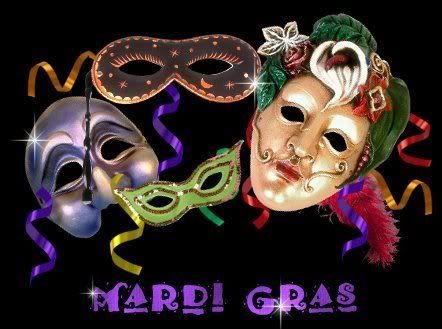 SOME MARDI GRAS PARADE KREWES
KREW OF ZULU: THEIR TRADITION IS THROWING GOLDEN COCONUTS (ACTUALLY HAND THEM TO PARADE GOERS FOR SAFETY PURPOSES, LOL)
KREWE OF BACCHUS: EACH YEAR, A CELEBRITY IS THE KING OF THIS PARADE. THIS YEAR'S KIND OF BACCHUS WAS ANDY GARCIA.
KREWE OF REX
KREWE OF ENDYMION
KREWE OF CRESCENT CITY
KREWE OF ELKS ORLEANS
KREWE OF ORPHEUS: ESTABLISHED IN 1994 BY HARRY CONNICK JR.
KREWE OF PROTEUS: 2ND OLDEST CARNIVAL KREWE
KREWE OF MID CITY
KREWE OF THOTH
KREWE OF OKEANOS
KREWE OF TUCKS: THE KIND OF THIS KREWE SITS ON A TOILET AND THE RIDERS THROW PLUNGERS, LOL.
KREWE DE VIEUX
KREWE OF LITTLE RASCALS: THIS KREWE IS MADE UP OF CHILDREN
KREWE OF OSHUN
KREWE OF CLEOPATRA: AN ALL-FEMALE KREWE
KREWE OF GLADIATORS
KREWE OF CAESAR
KREWE OF BARKUS: THE MOST UNIQUE PARADE KREWE, COMPOSED OF NOTHING BUT DOGS!
KREWE OF CENTURIONS
KREW OF JEFFERSON: MY FAMILY AND I ARE A PART OF THIS KREWE!
HERE IS A COMPLETE LIST OF MARDI GRAS PARADE KREWES
SOME FAMOUS LOUISIANA WRITERS, MUSICIANS, & OTHER CELEBRITIES
ANNE RICE
TRUMAN CAPOTE
TENNESSEE WILLIAMS
WILLIAM FAULKNER
KATE CHOPIN
MARK TWAIN
WALT WHITMAN
HARRIET BEECHER STOWE
ARTHEL NEVILLE
HARRY CONNICK JR.
BETTER THAN EZRA
LOUIS ARMSTRONG
THE NEVILLE BROTHERS
TRENT REZNOR
COWBOY MOUTH
D.J. KHALED
FATS DOMINO
LIL WAYNE
LIL BOOSIE
JUVENILE
MASTER P
SOULJA SLIM
MAGNOLIA SHORTY
MANNIE FRESH
PARTNERS IN CRIME
MYSTIKAL
B.G.
JOHN GOODMAN
ELLEN DEGENERES
TYLER PERRY
RICHARD SIMMONS
REESE WITHERSPOON
ARCHIE MANNING
PAYTON MANNING
ELI MANNING
LAISSEZ LES BON TEMPS ROULEZ!
LET THE GOOD TIMES ROLL!
I had a little too much fun last year, lol.