Follow Me Friday & Book Blogger Hop! Yay!
And now for the Follow Friday Fun!
This week's question is...
"
Do you have anyone that you can discuss
books with in real life? Tell us
about him or her."
I only have one person whom I regularly discuss books with, and yes it is sad but true. I actually just convinced my boyfriend to start reading (he is sooooo not a reader, lol) and I'm super proud of him, but he's not into the genre that I read (paranormal romance/urban fantasy) so trying to discuss a book with him is like beating a dead horse, absolutely pointless. My dad reads a lot, and we discuss some books, especially controversial ones that challenge religion, but he's the strong and silent type of man so it's hard work to get anything out of him. So, anytime I want to discuss a book or get an opinion about the novel I'm working on, I holla at my bestest bff, Brandi @ Do Not Disturb My Books. She's actually the reason I started reading again and blogging. We read the same genre of books, recommend books to each other, and have the best book convos. If Brandi were not my partner in crime, my brain would have turned to mush by now, lol. Love ya B-Rob!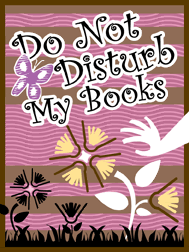 This week's prompt is...
"Pick a character from a book you are currently reading or have just finished and tell us about him/her."
At the moment I'm reading Meridian by Amber Kizer, the first book in her Fenestra series. The protagonist, Meridian, just turned sixteen and has to deal with a life-altering change. She's sort of weak and timid, doesn't have any friends, and has been surrounded by death her entire life. If I go into more detail about her character I'll be giving away too much information about the book, so I'll let you find out more about her by reading the it for yourself. This book is definitely a new take on the paranormal. Amber Kizer's ideas are fresh and unique and will definitely keep you interested through the entirety of the series.