Shannon, who blogs @ Eat, Pray, Love...Live,
has provided EYO with
some awesome goodies
for this giveaway.
One lucky blogger will win an assortment of Shannon's oh
so sweet smelling soy products.
What person wouldn't love
free yummy
tarts and scented candles?!?
Take a look at some of her product pics below.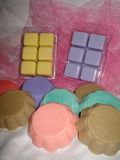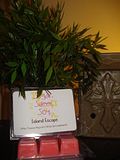 Great giveaway, right?
GIVEAWAY GUIDELINES
1. Click the GIVEAWAY ENTRY LINK below to enter the giveaway.
2. You must live in the USA to enter (shipping purposes).
3. You may earn extra entries for the following:
A. Follow Shannon's blog (+1)
B. Follow Shannon on Twitter (+1)
C. Favorite Sugar, Sweet, Soy on Etsy (+2)
D. Like Shannon's Facebook page and leave a comment (+2)
4. Following Embrace Your Oddities is not required but greatly appreciated!
GIVEAWAY BEGINS ON APRIL 4th
AND ENDS ON APRIL 18th.
Click Here To Enter This Giveaway!
THANKS FOR PARTICIPATING AND FOLLOWING EYO!