FOLLOW ME FRIDAY & BOOK BLOGGER HOP, YAY!
And this week's question is...
"It's circle time. Time for us to open up and share. Can you tell us FIVE quirky habits or things about you? We all have them..."
Oh goodness, here goes nothing...
1. I am totally obsessed with zebra print. I have soooooo much zebra print decor (strategically placed throughout my house so that my future husband doesn't freak out), clothing, jewelry, oh and SHOES (just bought a pair of zebra print stilletos-they are hottt!).




2. I always have a watermelon flavored push pop in my purse. Push pops are the best candy on the planet!




3. Home Depot is my favorite store - a girl can't have enough power tools, lol.




4. When I get married (which will hopefully be soon), I'm wearing sparkly flip flops. I take pride in being vertically challenged.




5. I have an addiction to tattoos and am currently working on a sleeve on my left arm, and it is bad ass!
This week's question comes from Ivan who
blogs at Ivan

Bookworm...
"If you were given the chance to spend one day in a fictional world (from a book), which book would it be from and what would that place be?"
My Answer: I would most definitely love to spend a day (well a night) in the Cadogan House of the Chicagoland Vampires, under the condition that I was indeed a vampire. I absolutely love all of Chloe Neill's Chicagoland Vampires books, but I would prefer to hop into the vamp scene before Hard Bitten (if you have read the book then you understand why, sniffle sniffle). Who wouldn't love to be surrounded by hottttt vampires for a night?
Don't forget about my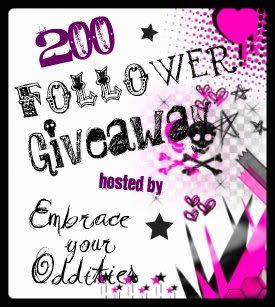 Enter for a chance to win a
$15 Amazon.com Giftcard!
Have a great day and thanks for following EYO!