It's Friday, and that means it's time for some book bloggin fun! Thank goodness because I don't think I could go another day without blogging. My hunny was in the hospital for 5 days, so of course I stayed with him, WITHOUT INTERNET ACCESS, and visitors couldn't leave the rooms after 9pm. It felt like prison, ahhhhh. But we are finally free! And Thank God It's Friday, literally.
Now for the Friday fun!
This week's featured blogger is
Louise
who blogs at Book Bliss. Hop on over to her blog and check it out.
And this week's question is...
"How many books do you read in a week? And in what format to you read them, or listen to them?"
This is a tough question bceause every week is completely different, in terms of reading that is. When I first started blogging, I was recovering from heart failure, so I had a lot of free time on my hands and read two books a week. I know that doesn't sound like much to those super speedy readers out there, but my meds make me so tired and I already have the attention span of a squirrel, lol.
Since I'm feeling sooooo much better, I started putting a lot of time into my artwork and my novel (yes, I'm writing my first urban fantasy novel, yay!) so I'm lucky if I get through one book in a week. Some weeks I'm super focused on writing, but when I hit a road block I switch to painting or reading, whatever I'm feeling at the moment. I'm definitely a spontaneous person when it comes to the hobbies that I enjoy most, but aside from that, I'm a geeky, super organized, plan ahead kinda girl.
As for format, I like both hard copy and ebooks, but I would never be able to pay attention to an audio book. I'd be lost before the end of the first chapter, haha. Lately I've been reading two books at once, one hard copy and one ebook - I read the hard copy at home and read the ebook when I'm at the office or waiting in line at the grocery or doctor's office. It may take me a little longer to get through each book, but I don't lose focus as quickly when I switch it up a
This week's question comes from
Britta
who Blogs at I Like These Books
"What book to movie adaption have you most liked? Which have you disliked?"
Great question! There are a ton of books-to-movies that I absolutely love, but my favorites are Confessions of a Shopaholic by Sophie Kinsella

,

Runaway Jury by John Grisham

,

The Lovely Bones

by Alice Seabold

, and

High Fidelity by Nick Hornby

. Obviously there are some differences (setting is a major difference in Runaway Jury & High Fidelity), but the movies definitely stay true to the spirit of the books. And it doesn't hurt that John Cusack plays the lead role in two of them :)

Love love love all of these!
I hope no one wants to kill me for saying this, but my least favorite book-to-movie would be Twilight by Stephanie Meyer

. I absolutely loved the book (one of my favorite series), but there were just too many inconsistencies in the movie, and it really, really bothered me. I found myself picking out all of the differences between the two rather than enjoying the movie. It doesn't matter when little details are left out of a movie (obviously there isn't enough time to get every little detail into the film), but it really bothers me when they are absolutely wrong. For example, Meyer described Bella's horrible, old computer and dial up internet connection in her room at Charlie's house in detail several times throughout the book, which really gives you a clear picture of what kind of guy Charlie is - down to earth, simple, with no need for technology. But in the movie, she has a laptop, grrrrr.
Another thing that really bothered me was that Bella didn't cook dinner for Charlie and herself every night, which to me was an integral part of the plot -they went out to eat at the diner instead. i really appreciated that part of the book and was very disappointed that it had been omitted from the film. I also felt that Edward and Bella fell in love a little too quickly in the film. The build-up to their romance was what I loved the most about the book, and I feel like that was lost in the movie. I could go on for days about all of the inconsistencies, but I would rather not have a mob of angry Twilight fans show up, pitchforks in hand, at my door.
DON'T FORGET TO ENTER MY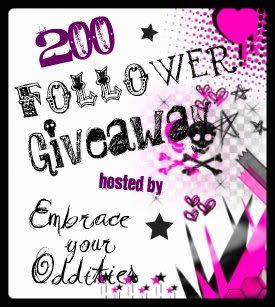 FOR A CHANCE TO WIN A $15 AMAZON GIFTCARD!
EYO HAS ALMOST REACHED 200 FOLLOWERS, SO ENTER BEFORE IT'S TOO LATE.
THANKS FOR FOLLOWING EYO AND HAVE A WONDERFUL WEEKEND!
HAPPY READING!