Are you in the hopping mood? I am! Here comes the Friday fun...
This week's question is...
"WHAT DO I DO WHEN I AM NOT READING?"
1. Duh, I blog.

2. I write. I'm actually working on my very first urban fantasy series, Transcendence. Everything is going well so far and I'm keeping my fingers crossed - hopefully it will be a success.
3. I paint & create mixed-media pieces (like altered book art, decoupage wall art, etc.). My art is largely inspired by New Orleans and urban culture, scenery, and architecture, but I also use a lot of symbols in my paintings(Fleur De Lis, Lotus Blossoms, the Egyptian Ankh, Pagan Triquetras, the Hindu Om/Aum, etc.). I just added an "Art" tab to my blog, and hopefully I'll have some pictures of my work up soon so I can share the love with you.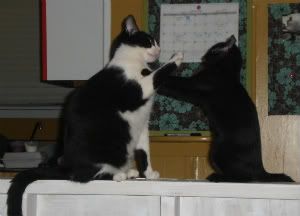 4. I play with my pets. I have 5 dogs (Armani, Lady, Selena, Nina, & Maximus) and 5 cats (Jasper, Emmett, Aro, Socks, & Victor). As you can see, I LOVE animals.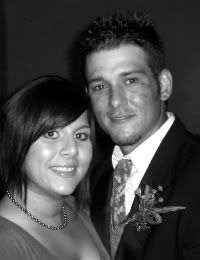 5. I spend time with the love of my life, Mitchell. We are very different, but we compliment each other. How boring would life be if you spent every day with someone who was JUST LIKE YOU? I keep him grounded and he challenges me to try new things. I'm goofy and he's, well, not as goofy as I am. I talk about books, music, and dance and he, err...listens. He is the best part of me :)
This week's question comes from Veronica who blogs @ Read Books, Have Fun.
"HOW/WHERE DO YOU GET YOUR BOOKS? DO YOU BUY THEM OR GO TO THE LIBRARY? IS THERE A CERTAIN WEBSITE YOU USE, LIKE PAPERBACKSWAP?
Good question...
I get my books from all sorts of places. Sometimes I kick it old school and go to Barns & Noble, browse around for hours, and buy a few brand spankin' new novels. I also love the atmospheres of small, privately owned book stores. One of my favorites is The Book Merchant in the historic town of Natchitoches, Louisiana. It's full of unique, interesting reads as well as classics & new releases, but it also has a great display of antique furniture and odds and ends, and a super friendly cat who greets you at the door :)
Any time I see a used book store, some force of nature pulls me through the doors. I LOVE used books! They have so much personality :) I usually stop by the local libraries on Fridays and sift through the racks of books that are for sale. A couple of months ago, I found a ton of classics (Jane Eyre, Sense & Sensibility, Pride & Prejudice) and some of my favorite Anne Rice novels (Pandora & Blood Canticle) for 10 cents a piece! The books I use for my altered book art also come from the "Sale" racks at the local libraries. I also frequently order books from Amazon.com-new and used paperbacks and hardcovers-as well as eBooks so I can read them on my iPod or Android (too poor to buy a Kindle, lol).