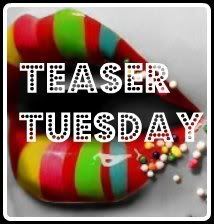 Today's teaser comes from my current read,
HARD DAY'S KNIGHT (BLACK KNIGHT CHRONICLES #1)
by John G. Hartness.
ABOUT THE BOOK (from Amazon.com)




Children are missing.


The police are stumped.


Halloween is coming, with an ancient evil on the horizon.


The vampires are the good guys.


This is not your ordinary fall weekend in Charlotte, NC. Vampire private detectives Jimmy Black and Greg Knightwood have been hired to keep a young client from being cursed for all eternity, but end up in a bigger mess than they ever imagined.


Suddenly trapped in the middle of a serial kidnapping case, Jimmy and Greg uncover a plot to bring forth an ancient evil into the world, and enlist the help of a police detective, a priest, a witch, a fallen angel and strip club proprietor to save the world. This unlikely band of heroes battles zombies, witches, neuroses and sunburn while cracking jokes and looking for the perfect bag of O-negative.


AND NOW FOR THE TEASER...






I picked up that stupid little minivan, and slammed it into the freshman from hell with everything I had. Toys, glass, baby seats and a couple of yuppies spilled out onto the pavement, but the girl was finally down. Greg dragged the yuppies over to the sidewalk and dropped his Jedi mind trick on them about hitting a Great Dane while I used their seatbelts to tie the girl's hands and feet.






"Grab Tommy. I stashed him on a roof." I yelled to Greg.






"Where are you going with her?" He yelled back. He was weaving a little back and forth, but he could stand, at least.






"Where else? I gotta take her to Dad's." And I tossed the girl over my shoulder like a rolled-up carpet and took off toward the only place that was safe to interrogate her - St. Patrick's.